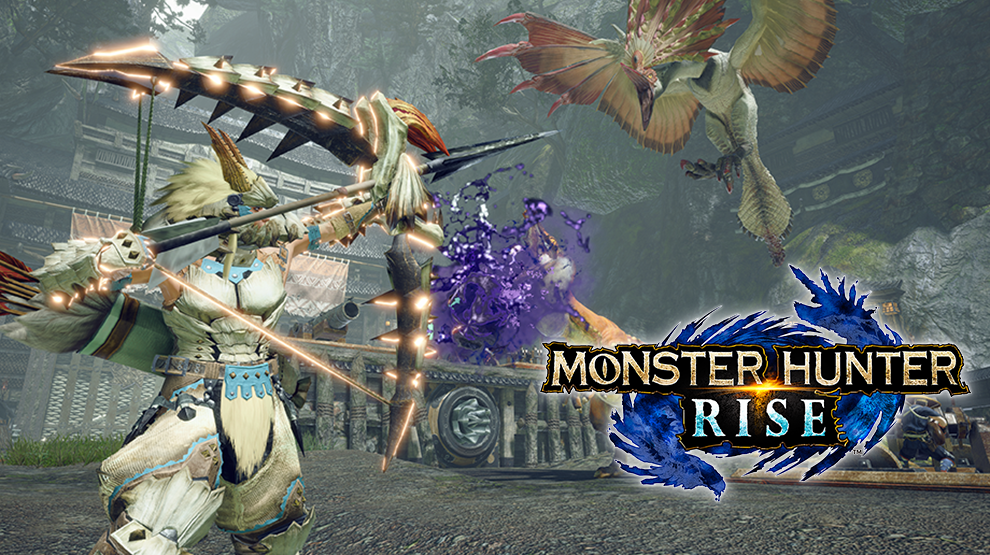 Please introduce yourself and your role at Capcom.
Hi, my name is Hiroaki Igarashi, and I'm a sound designer on Monster Hunter Rise. I work mostly on the technical aspect of sound design, so I create sound systems, and for Monster Hunter Rise, I was in charge of the Hunter and Canynes, and environmental sounds among other things.

What was your first experience with Dolby?
I remember my dad bought me a Kenwood stereo system with a Dolby logo on it when I was 13 years old.
I think it had a noise reduction function for cassette tapes. Of course, I didn't know much about sound design back then, but I thought it was an interesting bit of technology that you could reduce noise by selecting the same type that was used during the recording.
When I joined Capcom, I got to work with Dolby Pro Logic II during game development, and seeing that iconic double D logo reminded me of my youth.
Nowadays, Dolby Digital is an indispensable component of game development.
What did you decide to implement Dolby Atmos in Monster Hunter Rise?
Because I felt that it was the best way of creating immersion, and of conveying the game space as accurately as possible. I also really like the fact that, when you're playing with headphones on, you don't need specialized Dolby Atmos functionality, you can enjoy spatial audio on any pair of headphones!
This way, players can experience the sound we designed in a much more immersive way.

What benefits can players expect?
As the name implies, Monster Hunter features a lot of different monsters. Some monsters glide through the air, some breathe fireballs at you, so there's a lot of moments where there's all kinds of things flying over the player's head.
Also, there are lots of rises and falls in the level design this time, and the verticality makes exploration a lot more fun. Dolby Atmos is really great for this kind of gameplay, because it really sounds as if you're actually there.
Contrary to stereo downmixing, the spatial audio allows for very realistic reproduction of sounds behind the player as well, even when using headphones.

What were some of the technical challenges?
For the Monster Hunter Rise team, it was the first time to work with spatial audio, so everything regarding the implementation of Dolby Atmos was a challenge. We had to just fumble around and see what worked and what didn't, and find something that would be most effective for Monster Hunter Rise as a game.
This was an addition to a game that had already been released, so we had to be very careful about preserving the sound atmosphere of the existing game in implementing this new feature.

Can you take us through the process of deciding to use Dolby Atmos?
When it was decided that we would be porting the game to additional platforms, we started thinking about what we could do. Can we improve the sound quality? Can we increase the number of sounds being played? We had several ideas, and then we arrived at spatial audio and Dolby Atmos on Xbox Series X|S, Windows, and Steam.
Dolby Atmos allows you to turn an existing game space into spatial audio as is. Up until now, we had to downmix the sound because we were restricted by the functionality of TVs, stereo headphones, and 5.1 surround sound, but Dolby Atmos allowed us to express the soundscape as we intended it to be, so it was an essential tool in delivering a superior gaming experience to more players.

What do you hope to achieve with Dolby Atmos?
Dolby Atmos allows us to create spatial audio that adapts to the sound environment that each player is using, so we really feel that is has helped us to deliver our game's soundscape to everyone as accurately as possible.
From here on out, we want to deepen our understanding of this technology, so we can come up with ideas that are more effective for videogames, in order to bring higher-quality experiences to our fans.
We believe that Dolby Atmos provides the perfect opportunity for this.
--------------------------------
For more information about Monster Hunter Rise, visit the website here and @monsterhunter, and for more information on the Monster Hunter Rise: Sunbreak, visit the website here.